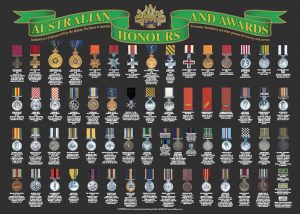 This Collection of Australian Civilian and Military Honours and Awards, includes the Victoria Cross, Orders of Australia and other bravery and service award. This collection is a combination of civilian and military Honours and awards and is a proud remembrance of our Australian heritage and history.
The medals portrayed in this presentation have been minted and cast, from original and actual awards for gallantry and service, and are faithful reproduced in every detail, encompassing the true size and depth of each medal.
Beneath each medal is inscribed, the specific significance of the award, the campaign relevance and the year in which the award was instituted. All of the impressive pieces contained in The Collection are handsomely displayed in the finest timber and gilt inner edged moulded frame which measures 88cm x 94cm, and is the product of skilled and traditional handcraftsmanship. Sheltered and protected under perspex, each individual medal has been meticulously affixed and aligned to a black background to embellished the richness of metal and enamels, and to highlight the elegance of each distinctive ribbon.
Recently updated for 5 additional medals including the Australian Operational Service Medal, Civilian and Border Protection, National Police Service Medal, National Emergency Medal and the Australian General Service Medal for Korea.
The cost of this display is: $2550.00 + Freight – please email Medals of Service re freight charges.
also available in unframed poster 60 x 42 cm $90 + postage
** Boards will be dispatched from our Supplier in Mascot
Phone: (02) 45775083
Email: sales@medalsofservice.com.au